Divyabodhanam

Divyabodhanam is a Theological Education Program for the Laity of our Church which commenced in the year 1984 as the brain child of L / L H G Dr Paulose Mar Gregoriose, the greatest visionary of cotemporary era. Unparalleled vision HisGrace possessed about the Church and its laity resulted in the formulation of this study program.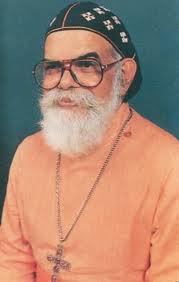 Our parish has a good unit of Divyabodhanam and there are 14 members undergoing for the current POCE program. Mr George Joseph (9747583738) functions as the coordinator for the parish. The registration process for the program 2013 – 15 has been completed and classes have started.
The program consists of a schedule extending to 8 years during which three courses are to be completed, which are all controlled at our Orthodox Theological Seminary, Kottayam. The three courses are:
POCE, a two year Certificate course where ten books are to be studied for which classes are organized at parish level and performance of participants are evaluated based on lesson summaries and essays submitted. Classes are arranged at parish level

DOCE, a two year Diploma course meant for those participants successfully completing the Certificate course namely POCE where another ten books are to be studied and performance evaluated similar to the procedure for POCE. Classes are arranged at Parish level.

GOCE, a four year Graduation meant for those participants successfully completing the Diploma course namely DOCE, where ten more books are to be studied. The evaluation procedures here are different from the earlier two courses in as much as that apart from submission of lesson summaries and essays on every book, there are ten written examinations too, centers of which being various places including Kottayam, Mulanthuruthy and many more with a provision to add further on need basis. For GOCE, for each book, classes are conducted at Kottayam by experts on the respective topics. Apart from submitting lesson summaries, essays on different topics and writing the examinations, participants are required to prepare a thesis on a relevant topic approved by the Registrar of Divyabodhanam. The length of the thesis shall be about 50 typed pages and shall have to be prepared under the supervision of a guide, who shall be a priest of our Church. The second half of the four year period is normally utilized for the work on thesis which should be submitted before mid December of the fourth year.
Every two year, Our Seminary at Kottayam organizes a large function for convocation where the certificates, diplomas and degrees are distributed.
Apart from the above three, there is another 3 year diploma course namely Thiruvachanabhashyam which used to be part and parcel and mandatory for those who were taking up GOCE, but now stands delinked from the 2009 – 13 batch. However, those who are interested can take up this along with GOCE or independently. The course is a detailed study of New Testament based on commentaries of various NT books authored by our own eminent priests.
In all, 30 books are to be studied for one to become a Graduate under Divyabodhanam program, and in the last 25 plus years, many have achieved this. In the latest convocation, 44 people have received Degrees including one from our Parish. The books those are being studied cover various topics including Worship, New Testament, Old Testament, Theology, Church History, Effective Communication, Counseling and the like and equip one to face the challenges boldly and with confidence. Also, seminars are organized locally by the Diocese coordinator. All the books are available from our Central Office of Divyabodhanam and OTS, Kottayam and participants are getting them at a discount of 30%.
Registration fees to join the program at present are as under:
POCE Rs 250/-
DOCE Rs 275/-
GOCE Rs 300/-
Instructors and Members
Instructors
Rev Fr. James Varghese
Rev Fr. Thomas K Alias
Mr. Geroge Joseph (Unit Coordinator)
Members
E M Abraham
Rini Geroge
Soosamma Mathew
Varghese Mathew
C V Thampi
P T Jhonson
Elizabeth Pothen
Elizabeth Varghese
S Leelama
Biji Ullas
Sally Cherian
Shelby Johnson
Sunu V Thomas
Neena Angel Mathew
Parish Dhivyabhodhanam Coordinator Mr, George Joseph has been taking classes for these participants every second and fourth saturdays
The key office bearers of Divyabodhanam scheme are the following.
President :H G Dr Yuhanon Mar Dioscoros
Director : Fr T J Joshua
Registrar : Fr Dr Ninan K George
Vice President ( Kochi Diocese ) : )Fr James Varghese
Coordinator (Kochi Diocese ): )Mr Samkutty
Important phone nos: Fr Dr Ninan K George 9656878008
Office: (Seminary) 0481 2568083, 2566526
Note: One can get into the website of Divyabodhanam using the following link: